Lucy Congdon Hanson Biography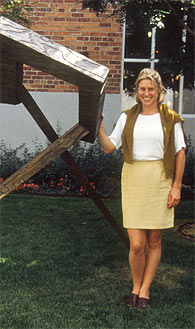 I'm interested in art as an interpretation of experience, not a literal transposing of reality.
Having grown up in Colorado I moved to Port Townsend, Washington where I live with my young family and continue to work as a contemporary artist.
I received my Master's Degree in Sculpture from the California College of the Arts in Oakland in 1995 and my Bachelor's Degree in both Painting and Sculpture from the Colorado College in 1986.
My past artistic endeavors include working as a scenic artist for theater, opera and cinema, and after that as an installation artist creating among shows "America Under the Knife": a room of giant kitchen utensils, the knife itself was 22 feet long. I love the fact that art is limited only by what you can imagine.
Currently I work in both sculpture and painting as I believe these two very different kinds of art inform each other from opposite sides. I construct my landscape paintings with layer upon layer of oily texture and color, whereas a sculpture once imagined must be deconstructed in my mind before I can begin to build it.
My sculptural works range in size from life size to tabletop dimensions and are made from a variety of materials including wood and steel, bronze, copper, aluminum or clay. Some are outdoor works, others specifically indoor and many are kinetic. All of them are contemporary in style and usually abstract.
The art era that has had the greatest collective influence on my creative development is art from the mid 20th century. I appreciate Alexander Calder for his humor: his Circus possibly one of the most accomplished works ever in my opinion. Louise Bourgeois and Eva Hesse I thank for their sensuous and organic approach to industrial materials. And for the sheer power of Minimalism I look to Robert Motherwell and Richard Serra.